I worked 16 hours on Christmas Eve (6 am to 10 pm) and then went to Church at midnight with my family. Since I'm tired to the bones from working, I decided that I'd rather stay home this Christmas and sleep the whole day than drive an hour to attend a party, hosted by my mom's boss. But, before they left for the party, my mom left me some things on the table: food and gifts.

The food wasn't much. But it was enough for me and it was good. Some garlic mashed potatoes, garlic bread, fresh eggrolls, a quarter of coffee cheesecake, two bottles of Heineken and maybe a pound of honey-baked ham. Because I only ate a slice of deep dish pizza for dinner last night, I devoured the food like a month-starved prisoner. I gave a very loud, very satisfying belch afterwards.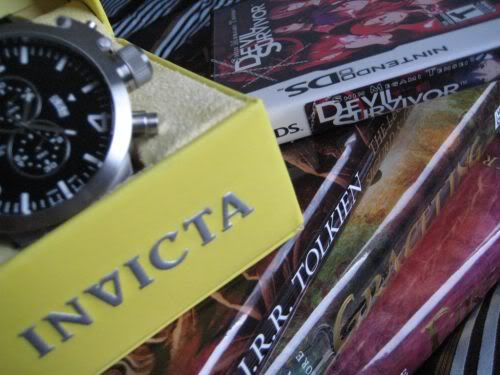 After I finished eating, I opened up my presents and here's what I got: (clockwise from the top right on the picture)

Invicta Chronograph Watch

- This was from my mom -she knows I'm a watch fiend- and it looks kick-ass. Although its huge, almost like belt buckle than a wrist watch. I'm still gonna wear it though.

The Legend of Sigurd and Gudrun, Graceling, and Fire

- These 3 fantasy books were from my dad. Except for

Graceling

, which was sitting on my wishlist since last year, I didn't ask for any of these books. Now I got more books to read. Awesome.


Shin Megam Tensei: The Devil Survivor

- This was from my sister. I never bought any NDS game this year. So it's nice that I got one, and this game seems good as well.
Well, that's what I got for Christmas 2009. I couldn't ask for anything better. All in all, I had fun this Christmas. Although I wish the weather was a bit more nicer.
Merry Christmas to all my ardent readers and blog mates.
Similar Posts:
Let It Snow and Spin
Holiday Wishlists

Frankincense, Gold and Myrrh
Secret Santa, Music Spree
Wishes Are Sometimes Granted