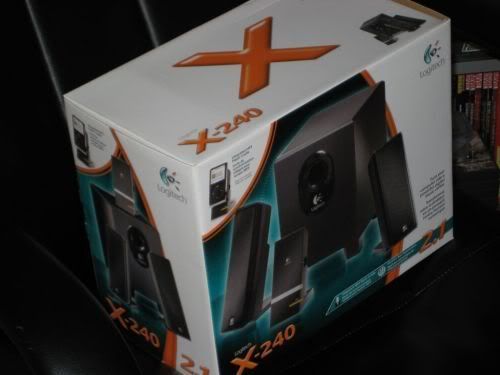 Last month, I posted my E-budget for 2009, a list of electronic toys that I'm planning to get this year. The first thing I've mentioned to get was a desktop speaker because the PC that I recently acquired didn't come with any. I've been using the old speakers that came with my previous computer, and a cheap Logitech headset. Both of which produces horrible sounds. But that's maybe because I'm suffering from mild audiophilia. So, since Best Buy sent me a 12% off coupon, I decided that it was high time for some new speakers and got myself a Logitech X-240.

The X-240 is a 2.1 speaker system with a very simple design. It includes two satellite speakers, a sub-woofer, and an iPod dock. The satellite speakers have very simple design, no bells and whistles, but they're sleek and don't take a lot of space. The sub-woofer, like the satellite speakers, is also simply designed and is small enough to be hidden behind my trash basket. The only thing I didn't like about the whole package is the iPod dock that can hold almost every mp3 player except the Creative ZEN. So it's useless to me. What's worse is that the dock is also hardwired. So I can't take it off and stow it away.

As for the X-240's sound quality, I did some tests on it, comparing it with my Ultimate Ears earphones, with different audio and video materials, last night and this afternoon, and I'm very satisfied with the results.

Earphones


Ultimate Ears Super.fi 3 in-earphones

Video


Akira (DVD)
Beck (DVD)
Afro Samurai: Ressurection (270 kbps)
Audio


"Ulysses" by Franz Ferdinand (256 kbps)
"Love Letter to Japan" by the Bird and the Bee (192 kbps)
"Board Up The House" by Genghis Tron (320 kbps)
"A Private Death" by Blue Sky Black Death (192 kbps)
"Better Days Ahead" by Norman Brown (256 kbps)

Games

The first notable change in my new set up is definitely the sub-woofer. It just makes the explosion in my games and movies even more destructive. It also adds more thump to the beats in my music. Especially in "Board Up the House" where it turns the song into a thundering chaos of drumworks. It also delivers crisp and clear sounds. Although not in the level of my Super.fi 3 earphones, it's enough to enjoy the sparkling guitars of Norman Brown in "Better Days Ahead".
Originally,
Logitech Z-2300
were my choice speakers, not the X-240, when I made my list. But, for some reason, the Z-2300's price had astronomically increased since then. If not for the available demo at Best Buy, which allowed me to conduct a "sound off" between all the displayed speakers, I would've ended up buying the Z-2300 and regretting it. Not that Z-2300 is a bad speaker. In fact, it is a better system than X-240. Although, price wise, X-240 is more reasonable and practical.
Similar Posts:
E-Budget 2009
XPS 630
Ultimate Ears Super.fi 3
E-Project Budget
Philips SHE-9500